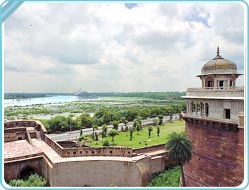 Musamman Burj or the Octagonal Tower is believed to have been built by Shah Jehan as the palace of his beloved queen Mumtaz Mahal and it was here that he spent his last days since his son Aurungzeb imprisoned him till his death along with his favorite daughter Jahanara Begum. It is situated at the location where the main wall of the fort takes a turn towards the east. It is said that at first a small marble palace built by Akbar was situated at this site, which was later demolished by Jehangir to erect new buildings. Shah Jehan in his turn chose this site to erect the multi-storied marble tower inlaid with precious stones for Mumtaz Mahal. It was built between 1631-40 and offers exotic views of the famous Taj.
The dome crowning it has gilded copper at the top while the flooring on the lower storey has been paved with marble to resemble the board for playing pachchisi. Thus, it is also known as the Pachchisi Court. People believe that the emperor used to play the game here but actually this court was built merely as an ornamental cover for the drains. The most notable traits of this towen is a projecting jharokha on its easternmost side, an elegant marble screen on the riverfront side, the vertical pillars and the horizontal chhajja supported on beautiful brackets. The most ornate building of the entire fort is the small pavilion known as Shah Burj situated near this tower.
The highlights of this pavilion are a stylized lotus tank with a fountain in the centre, which is ostentatiously carved and inlaid with semi-precious stones. The vaulted marble roof of the pavilion was once painted royally with gold and other colors. A self-contained building in itself, it has its own separate courtyards and baths and one can reach the imperial baths and Diwan-i-Khas through a passage here. It also had a small marble paved room that was kept cool during summers with the aid of a waterfall and a channel. The inlay work on the pillars and dado panels of the MusammanBurj depict stylish borders and carved plants in the centre, Chinese cloud forms and conventional floral patterns.