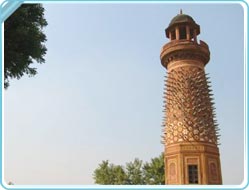 Hiran Minar is located in the open plains. This 21.34m high tower got its name after Jehangir converted the polo ground around the tower into a sanctuary for hiran (antelopes). The tower is entered through a flat-topped door bordered by sand stone panel and flanked by closed arched panels. There are 53 steps leading to the top inside the tower. One can get a bird's eye view of Fatehpur Sikri from the top of the tower.
The tower is octagonal upto the height of 3.91m and circular to the rest of the height. The tower stands over an octagonal platform, which in turn stands on a square one. The lower square platform is 21.96m sq. and the octagonal platform is 1.2m high and is edged by a small cornice. Double flight of 9 steps has been provided on northern and eastern side, which is 3.05m high.
This tower is decorated with an alternate row of six pointed star and hexagons. Numerous elephant tusks are protruding from the center of the each star and hexagons (now replaced with stone tusks). It is believed that real elephant tusks symbolize the novelty and grandeur of Mughal Empire.