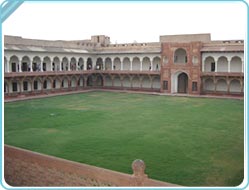 Nagina Masjid's architecture is very simple with less decoration. The mosque is divided into three bays by simple pillars supporting the pointed arches above. Nagina Masjid is located at the Northern side of Harem Sara, near the viaduct connecting Hiran Minar.
It is 10.21m broad and 7.39m deep, facing a stone paved courtyard, which is 16.25mx13.10m in dimension. Northern side of the mosque has a veranda overlooking the road below that runs towards the Hathi Pol. Spandrels of these arches bear beautiful rosset carvings. The middle bay is larger having a simple mihrab on western side.
Nagina Masjid is the general name in Mughal palaces for the small private mosque set separately for the ladies of the imperial Harem, as women were not allowed to pray in congregational mosques.