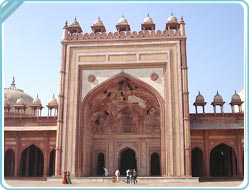 Jami Masjid or the Friday Mosque is one of the most beautiful and largest mosques of the world. This elegant building is the most sacred building and the principal mosque of the town and thus situated on the highest point of the ridge where Fatehpur Sikri is situated. In fact, the Buland Darwaja commemorating the victory of Akbar over Deccan and the Tomb of the famous Sufi saint Sheikh Salim Chishti are a part of this spacious mosque complex. Built in the supervision of the saint himself and his descendants, it was completed in 1571.
The vast quadrangle has the mosque on the western side and arcuate cloisters with broad slanting chhajja and splendid brackets crowned by series of square chhatris on the other three sides along with Buland Darwaja on the south, Badshahi Darwaja on the east and the tombs of Sheikh Salim and Islam Khan and the ablution tank in the inner courtyard. The main rectangular mosque consists of a central nave with a single dome, two colonnaded halls on its either side with two square chambers crowned with dome. The elegant and beautifully carved mihrabs adorn the main chamber and the two smaller rooms.
The mosque marks the phase of transition in Islamic art as the indigenous architectural elements were blended with the Persian architecture. The pillared dalan of the façade, the iwan with three arched openings also framed by panels and crowned by five chhatris and the central mihrab adorned with inlaid mosaic of stones that are bordered by glazed tiles and has golden inscriptions on royal blue background. The interiors of the iwan are adorned with watercolor paintings depicting stylized floral designs. Even the dado panels, spandrels of arch, squinches and soffits are also painted profusely. Unlike other monuments, where domes are supported on squinches, here elegant corbelled pendentives support the done.