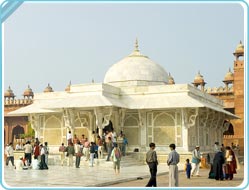 The beautiful square marble tomb of Sheikh Salim Chishti is one of the finest examples of Mughal architecture in India. Situated near Zanana Rauza and facing south (towards Buland Darwaja), it enshrines the burial place of the Sufi saint who blessed Akbar with his son and heir and lived a religious and austere life here. The mausoleum was built by Akbar as a mark of his respect and reverence for the saint and it was completed in the year 1580-81. Raised on about a meter high platform, there is flight of five steps to reach its entrance porch. Elegant marble screens enclose the main tomb building on all sides while the tomb is places in the centre of the main hall with a single semicircular dome.
The ebony 'chhhaparkhat' enclosure surrounding the marble cenotaph, usually covered b y a green cloth, is inlaid with scales of mother-of-pearls. Devotees ask for the blessings of the saint to fulfill their wishes and believe that tying a black thread on the marble screens of the main tomb building with the promise of loosening the thread when the wish is fulfilled serves as a constant reminder to the saint to advocate for their wishes and grant them his blessings. The marble building is so profusely carved that it seems to be built of ivory. The plinth is ornamented with mosaics of black and yellow marble arranged in splendid geometrical patterns.
The serpentine brackets emerging from the pillars carved with stylized peacock tail pattern and sloping eaves add to the magnificence of the porch. The door of the main chamber is carved elaborately with arabesque patterns and boasts of Quranic inscriptions. Brown marble borders the interior bays while the relief panels with Quranic verses have a blue painted background. The ostentatiously carved and painted tomb chamber has white marble floor inlaid with multicolored stones. The verses are chosen carefully to impart deep esoteric meaning.