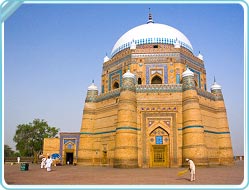 Bahauddin was one of the nobles of Mughal Emperor Jehangir. He was also known as 'Chuna Paz' (lime burner) because he overlooked the preparation of plaster. His tomb and mosque are built in red sandstone and are situated side by side enclosed by a low wall in the southern side of Fatehpur Sikri. The small mosque is only one bay deep and three bays wide and has no dome. There are three red sandstone mihrabs adorning its western wall and the central one was deftly carved. However, several coats of white wash have deformed it. The arched opening of the wall once had a stone screen and still has the carved rossets and inscriptions above it. The northern wall has a beautiful perforated screen, which is now in pitiful condition.
Eight pointed stars, tulip patterns and engrailed niches border the arches. The twelve-sided shaft of the column supporting the façade has a stylized base in shape of a peacock's tail and a miniature squinch on its top. The brackets supporting eaves are delightfully ornamented too. The most striking feature of the mosque is a pillar with 'guldasta' (bunch of flowers) patterns carved on it. One can reach the tomb through a small gateway on the right side of the mosque. It is enclosed by perforated marble screens on all sides. The main entrance is simple and is inscribed with Koranic verses.
A pillared verandah surrounds this tomb and small stone eaves and parapets grace the roof. The dome surmounting the roof rests on an octagonal base with inverted lotus on the top. White marble pinnacles can be seen both at the tomb and the mosque. The exteriors of the tomb are paneled with engrailed niches. The small stone fence enclosing the tomb is so delicately and intricately designed like woodwork and has miniature battlement on its top. It is the best railing found in Fatehpur Sikri.