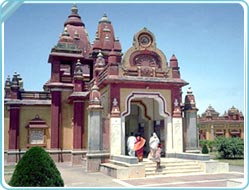 Shri Krishna Janma Bhoomi
Believed to be the place where Lord Krishna was born 5,000 years ago in the prison of his maternal uncle King Kansa, the site now houses a beautiful and magnificent Krishna temple. The museum inside the temple exhibits many old statues that have been excavated here and in the surrounding areas.
Janma Masjid
Built by Nabir Khan in 1661, the mosque looks quite impressive with its four delicate minarets and the traces of the bright colored plaster mosaic that had once graced its panels.
Vishram Ghat
The sacred spot on the bank of River Yamuna has an interesting legend attached to it. It is said that it was here that Lord Krishna rested after the fierce fight with his uncle Kansa, who was a cruel king and had not only abused his power and crushed his citizens but had also imprisoned his own father and had usurped his rights as the king.
Dwarkadheesh Temple
Situated near River Yamina, Dwarkadhish Temple was built in 1814. It is the most popular temple of the city and looks all the more attractive when it is ostentatiously decorated on religious and festive occasions such as Holi, Janmashtami and Diwali. It is profusely carved and painted and has splendid architectural traits. Since long, followers of Vallabhacharya have managed this temple.