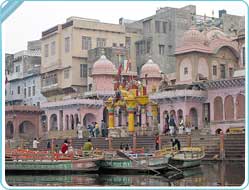 Mathura, a little town on the riverbed of Yamuna in Uttar Pradesh state of India is the birthplace of Lord Krishna. There are numerous little spots in the area that still reverberate with the enchantment of Shri Krishna. The town is at a distance of 145 km southeast of Delhi and 58 km northwest of Agra covering an area of about 3,800 sq. km. A long line of picturesque ghats - with their steps leading to the water's edge, arched gateways and temple spires extending along the right bank of the River Yamuna, emphasize the sacred character of the town of Mathura.
Mathura is a city of temples and shrines bustle with the thousands of devotees who come to visit the city of Lord Krishna. A splendid temple at the Katra Keshav Dev marks the spot that is believed to be the Shri Krishna Janmasthan (birthplace of the Lord). Another beautiful shrine, the Gita Mandir located on the Mathura-Vrindavan Road has a fine image of Shri Krishna in its sanctum. The whole of the Bhagwad Gita is inscribed on the walls of the temple.
The most popular shrine at Mathura is the Dwarikadhish Temple, built in 1815 to the north of the town. The city stretches along the right bank of the Yamuna and the continuous the line of ghats along the river makes a splendid spectacle when viewed from the opposite bank. There are a total of 25 ghats in Mathura today, of which the most important is the Vishram Ghat, where Shri Krishna took his rest after killing Kansa.
It is at Vishram Ghat that the traditional parikrama (circumambulation of all the important religious and cultural spots of the city) starts and ends. The 12 ghats to the north of Vishram Ghat include the Ganesh Ghat, Dashashwamedh Ghat with its Neelakantheshwar Temple, Saraswati Sangam Ghat, Chakratirtha Ghat, Krishnaganga Ghat, Somatirth or Swami Ghat, Ghantagharan Ghat, Dharapattan Ghat, Vaikuntha Ghat, Navtirtha or Varahkshetra Ghat, Asikunda Ghat, and Manikarnika Ghat. To the south, there are 11 ghats - the Guptatirth Ghat, Prayag Ghat marked by the Veni Madhav Temple, Shyam Ghat, Ram Ghat, Kankhal Ghat, the site of the Janmashtami and Jhula festivals, Dhruva Ghat, Saptrishi Ghat, Mokshatirth Ghat, Surya Ghat, Ravan Koti Ghat, and Buddha Ghat. The Vishram ghat is lined with elegant temple like the Mukut Temple, Radha-Damodar, Murli Manohar, Neelkantheshwar, Yamuna-Krishna, Langali Hanuman and Narasimha temples.
No pilgrimage to Mathura is complete without a visit to its 40 survivng kunds out of 159 ancient kunds. The town has a number of Shaivite temples as well. The chief among them being the Bhuteshwar Mahadev Temple to the west of the town, the Gokarneshwar Temple in the north, the Rangeshwar Mahadev Temple to the south and the Pipaleshwar Mahadev Temple to the east.