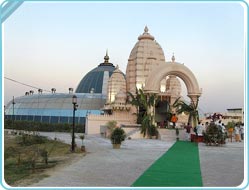 Vrindavan is just 15 km away from Mathura, and is another major pilgrimage place in India with old and modern temples. The name Vrindavan evokes the playfulness and lovable characteristics of Lord Shri Krishna. Vrindavan has numerous temples. Madan Mohan Temple located near the Kali Ghat, which was built by Kapur Ram Das of Multan is the oldest temple in Vrindavan. The Banke-Bihari Temple, built in 1864 is the most popular shrine. The famous Radha Vallabh Temple, set up by the Radha-Vallabh sect, has the crown of Radha-Rani placed next to the Shri Krishna idol in the sanctum. The fine hand - carved sandstone workmanship exhibits in the Jaipur Temple.
The Shahji Temple was designed and built in 1876 by a wealthy jeweler, Shah Kundan Lal of Lucknow. The `Basanti Kamra' - the darbar hall is famed for its Belgian glass chandeliers and fine paintings. The Rangaji Temple was built in 1851 in Dravidian style, has a tall gateway of six storeys and a gold - plated Dhwaja stambha. The Govind Deo Temple was once a magnificent seven storeyed structure built in the form of a Greek cross.
The Shri Krishna-Balram Temple built by the International Society for Shri Krishna Consciousness (ISKCON), is one of the most beautiful temples in Vrindavan today. Seva Kunj is the place, where Lord Krishna once performed the Raaslila with Radha-Rani and the gopis and Nidhi Van where the divine couple rested. Sites of Sriji Temple, Jugal Kishore Temple, Kesi Ghat, Lal Babu Temple, Raj Ghat, Meera-Bai Temple, Imli Tal, Kaliya Ghat, Raman Reti, Varaha Ghat and Chira Ghat are also worth to visit.