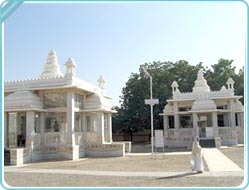 Raman Reti
It is the place where Krishna and Balarama came with the cowherd boys to play daily, and also the meeting place of Krishna and Radharani every night, before going to Brindavan to enjoy their pastimes.
Nidhivana
Nidhivana is the place where Radha and Krishna are said to have taken rest after dancing and other conjugal affairs. There is a small temple here known as the 'sleeping temple', which has a bed, where Radha and Krishna are said to take rest in, after enjoying their pastimes here.
The Samadhi of Haridasa Swami is near the entrance of Nidhivana. He was a contemporary of the six Gosvamis, and he discovered the Banke Bihari Deity here. He was born in 1535 in Haridaspur (Kol-Aligah). His father married the daughter of a brahmana from the village of Raipur, which is near Vrindavana. When he was 25, he took sannyasa. Tansen the famous court musician of Emperor Akbar, in the 16th century, was from Nidhivana, and a favorite student of Haridas. .
Samadhis
There are basically three types of samadhis in Brindavana. They are full body, pushpa samadhi, and smriti (memory). Normally a samadhi is placed near a temple or where a devotee did his bhajana. It is said that Jiva Gosvami did bhajana in the exact same place as where his samadhi is located. Lokanatha Gosvami, Bhugarbha Gosvami and Prabodhananda Gosvami all did bhajana at the places where their samadhis are located.
Yamuna River
The beautiful Yamuna, India's most sacred river flows through the transcendental land of Brindavana. From Yamunotri, the Yamuna flows south until it reaches Delhi. It then flows to Braja Mandala through Vrindavana and Mathura. From there it goes through Agra and eventually merges with the Ganges and the underground Saraswati at Prayag (Allahabad). The main reason it is so sacred is because it flows through Vrindavana and Mathura, and was thus intimately connected to Lord Krishna's pastimes. A bath in this river is said to be one hundred times more purifying than a bath in the Ganges. The traditional bathing place of most pilgrims is at Kesi ghata, where Lord Krishna bathed after killing the Kesi demon.